How Hearing Aids Can Help In Glendale, AZ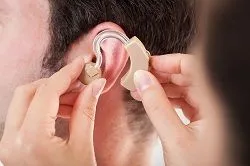 While there is no way to restore hearing one of the best ways to help patients living in and around Glendale, AZ, improve their hearing is with a hearing aid. Thanks to all the advancements in technology there are now more options than ever when it comes to choosing a hearing aid. While this is certainly good news, we also know how daunting the decision-making process can be. Fortunately, the medical team at Westside ENT can help guide you in the right direction to find the hearing aid that works best for you.
We are proud to be able to increase the ear, nose and throat offerings that we provide to patients in Glendale, AZ, which now includes hearing aid services. From hearing screenings to determine the type and severity of your hearing loss to purchasing the right hearing aid to fit your lifestyle and reprogramming your current hearing aid our otolaryngologists and audiologists can help you on your path to better hearing.
Our audiologist Dr. Bos and his team are passionate about providing patients of all ages with the treatment they need to be able to tackle the challenges faced by hearing loss. By providing patients with their ideal hearing aid we help integrate them back into the vibrant, social world they knew before hearing loss. The entire team at Westside Ear, Nose & Throat will work with you to provide you with the attentive, one-on-one care and focus you or a loved one deserves.
Needing a Hearing Aid
While hearing loss should seem obvious enough it's often subtle at first. You may notice that you need to turn up the volume on your television in order to hear it or that it's becoming more difficult to hear those on the other end of the phone. You may also find yourself daydreaming at the dinner table of a noisy restaurant because it's too exhausting to follow what everyone's saying over the restaurant's hustle and bustle. These are all signs of hearing loss and the sooner you get a hearing screening the sooner our team can help you get back into the conversation again.
If we've determined that you are dealing with hearing loss the next step is to help you determine which type of hearing aid will be best for you. There are so many options nowadays when it comes to styles and types. You may want something basic or you may want a hearing aid that offers many special features. The choice is ultimately up to you but our medical professionals can help guide you along the process to make choosing and fitting your hearing aid a positive experience.
Want to learn more about getting fitted for hearing aids at Westside Ear, Nose, & Throat?
Call our Glendale, AZ office at (602) 938-3777 to book an appointment today